This blog is going to be full of "some things you didn't know" because you are getting a sneak peek of some of the new stuff that is coming in 9.15. If you just can't get enough, join our webinar next Wednesday to learn even more!
The secret word for this blog is WOW.
Searching
Proximity searching has some cool improvements. You can now create a search like this:
(sword or weaklegs) near20 drug*  

 even a search like this:
( Sword or Weaklegs ) near20 ( drug or Banned )

get hits like this:

Passwords
With a Password Reset license, users can now reset their own password; there is a 'Forgot Password' link on the login page. Once a user clicks on the link, and provides their username and clicks Submit, they receive an email with a link to reset their password. (This is a single-factor authentication for resetting a password.)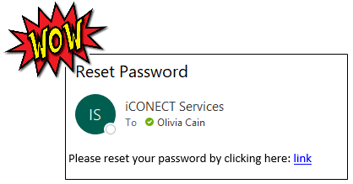 This works if you have their email address set correctly for their user account and SMTP set up on your server. You can still reset a password for a user using the new Reset Password button in the Users tile if needed.
Table View
Table View has had a small face lift…and is looking better than ever.
Thumbnails can be included in table rows.
Virtual fields like Email Inclusiveness and Near Duplicate Similarity are auto-populated for sorting (provided you have an analytical index created).

AND (this is big)
Users can SCROLL!!! They can set the scroll limit to display up to a thousand rows, which means no more paging through sets of 25-30 documents.
This is a build with some great changes, but change can bring uncertainty. As always, iCONECT Support will be available to answer all your questions and help you make the most of these changes.