This is iCONECT's second year participating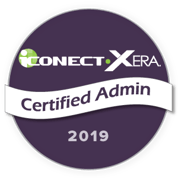 in the 2019 TRU Staffing Partners Scholarship program, which "fosters training and education in the security and legal technology industries". iCONECT congratulates the four iCONECT scholarship recipients, who begin their certification training in May. 
Rebecca Rockwood and Michelle Arty are attending the iCONECT-XERA Web Administrator Certification course, which teaches and tests project management skills using the iCONECT-XERA eDiscovery review platform. Jay Kuperstein and Marilyn Earls are learning more advanced skills with the  iCONECT-XERA Administrator Certification course.
Each recipient had their own reasons for applying for the iCONECT scholarship:
Rebecca Rockwood

I decided to apply for the scholarship because my firm has been working with iCONECT a great deal lately. For the past year, we have been working on a major case for a client who uses iCONECT as the primary e-discovery platform. The platform is quite a bit different than Relativity in many ways and presents several unique challenges. However, I have come to enjoy utilizing the program's unique search functions. I would like to learn more about how to use iCONECT effectively. 
Michelle Arty

Abigail Adams said, "Learning is not attained by chance, it must be sought for with ardor and attended to with diligence."  That is why I applied for the TRU iCONECT Web Administration certificate.  I believe that eDiscovery is no longer the future of litigation, but the here and now.  In order to be the most effective litigation paralegal I can be, I need to understand the why and how, and then be able to teach it to others. I know that I have mastered it when I can explain it to others. If there is one thing I enjoy more than learning, it is teaching.  Like Henry Ford said, "Anyone who stops learning is old, whether at twenty or eighty."  And I, for one, am not old.
 Jay Kuperstein

I decided to apply for the TRU Staffing Scholarship to increase my iCONECT knowledge and capabilities so I can provide the best possible service for the FAA. Any improvements or efficiencies I learn can be directly incorporated into our program.
Marilyn Earls

I decided to apply for the TRU iCONECT Scholarship to gain new skills, perspective, and advance in my career. I like that it includes project manager training, and I'm exited to get experience and certification with another tool relative to my path of success. 
Good luck to you four. We'll hear their impressions of the courses and the exams once they are certified.
In addition to the courses mentioned above, iCONECT also offers free online user training courses. Visit https://www.iconect.com/training-support/end-user-training/ to learn more.