Anyone who knows me, even just a little bit, knows I hate to do things more than once and I always look for the most efficient way to get things done – the first time!
I am all about doing the planning up front to make whatever the project run smoother. From pre-measuring ingredients when I am baking with my niece and nephew, to making sure we have more than enough materials to build our vegetable garden with my partner, I like to do what I can, upfront, to make the project successful for everyone.
That is why I love iCONECT project templates.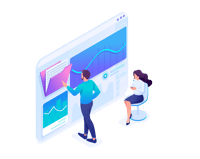 Project templates allow you to plan once, then use that template and make the adjustments you need for your case specifically. We ran a class last week in our Continuous Online iCONECT Learning (COiL) program where we discussed what to include in your template and why.
Since not all of our readers are members of COiL, we created a guide that you can use to develop your iCONECT project template. You can download the guide here.
Trust me when I tell you I am all about the fastest, easiest and most fun way to accomplish any task. This guide is just the thing you need to build your project template quickly and efficiently.