I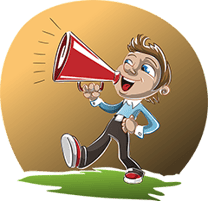 have to take my iCONECT recertification and do THAT test… many of you have thought this after getting your recert email reminder, and many of you have even said this to me when we have spoken. I am here to tell you that we are redesigning the iCONECT Administrator Certification program and doing away with THAT test!
Starting in January 2020, anyone who has iCONECT Administrator Certification will need to acquire 30 credits to remain certified and keep their open line to our fabulous Technical Support department. iCONECT will hold webinars and training sessions throughout the year where credits can be obtained. Each webinar will have a credit value that can be achieved with attendance and participation.
Those of you who have certified in 2019 will receive credits based on the date you submitted your exam. Each certified administrator will receive an email next week that lists the number of credits they have obtained, and a list of the first set of webinar sessions that you can attend. Recorded versions of the webinars will also be available, but you will receive less credits for these webinars.
We know this is a big change, but we also know how many of you don't like THAT test. We will be offering webinar sessions starting in November to give you a head start on collecting your 30 credits!