Introducing iCONECT Feature of the Year Award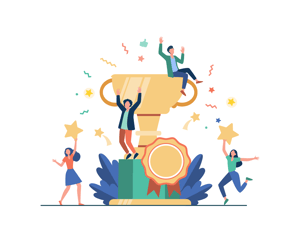 As you may remember, I love award shows! This year I have been missing the glitz and glamour of them all, but was overjoyed when one of my favorite shows-  Schitt$ Creek – swept the Emmys.
The best part of iCONECT's award show is that you get to vote for the best feature of the year. For the next few days, I will be highlighting the nominees. On Wednesday December 16, 2020 I will recap all 9 features and then you can leave a comment – your vote – to tell me what you think was the best feature of this year!
Today's Nominees are:

CAL: Oversight and Predict – Powered by Sentio, these two amazing features were introduced in 10.0. Oversight allows for real-time quality control of reviewer work, providing detailed graphs of reviewer and issue inconsistencies in coding, so that you can easily course-correct, Predict allows for faster training of the documents without rounds or batches to help your team get to the relevant documents as quick as possible. Statistics are automatically generated to help be sure goals are met.
    

Easy Imports – Also introduced in 10.0, and the enhanced in 10.5, easy imports allows users without administrative privileges to import data:  either native files by themselves or load files and data into iCONECT with a couple of clicks. Administrator-controlled templates make it easy for a novice user to get a new project up and running quickly.

NOT Folder Search Shortcut – In 10.2.5, the NOT folder search shortcut was introduced. Like OR and AND operators, users can hold down the SHIFT key, select the folder of documents they want to exclude from their search, and the results are returned.
Remember voting will take place on Wednesday December 16, 2020!
If you submit your vote and you're a certified administrator, you receive three credits! We will announce the winner on Friday December 18, 2020.