The iCONECT Feature of the Year winner is…
COVER and PII!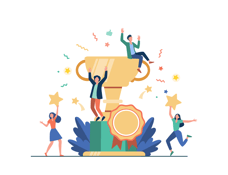 COVER and PII go hand in hand, making a mass redaction workflow for sensitive information easy to set up and reuse with all matters. (ideal for FOIA)
Honorable mention to Easy Import/Productions  and Sentio CAL – Oversight and Predict which features tied for second place.
Thank you to all who voted!
I love awards shows, so hosting my very own was a great way to end this year.
I am looking forward to happy and healthy 2021!